Best Bible Study Apps for your Smart Phone or Tablet
Chances are, you're reading this post on your mobile phone. Over 2/3 of the 2 million subscribers to FaithGateway.com use their smart phones or tablets to read articles and emails from FaithGateway authors. We recently surveyed our subscribers and asked them what bible study apps they were using. Here's a quick roundup of our readers favorite bible study apps.
Best Bible Study Apps #1 – YouVersion
YouVersion Bible App has been downloaded to 130 million devices. I regularly use the YouVersion app during church services and to catch up on my bible reading plans. I love the audio version of the bible. Hearing the bible provides an entirely new perspective on familiar passages. I can imagine the apostle Paul writing his letters, which were read out out to the believers in the early Christian church.
One of my favorite tricks is to use the YouVersion Live function, then email it to Evernote. In just a few clicks, I've got my pastor's sermon notes into Evernote where I can edit, tag, add to-do's and photos to my pastor's notes. The result is searchable sermon notes in by electronic brain–Evernote.
Best Bible Study Apps #2 -The Bible Study App by Olive Tree
The Olive Tree app is free and has over 100 free downloadable resources, including dozens of versions of the bible. In addition, there are hundreds of paid resources to fully customize your bible app experience well beyond the typical free bible app. Create your own customized parallel Bible with our split window feature. Link your Bible reading with outstanding commentaries, maps, and dictionaries for an in-depth Bible study experience with our powerful Resource Guide.
Take notes, highlights, bookmarks, and sync to all of your devices. More than just a Bible reader, The Bible Study App gives you access to top study resources even without an Internet connection. The Bible Study App has become must have for over 4 million people.
Best Bible Study Apps #3 – Enhanced Bible reading with Bible Gateway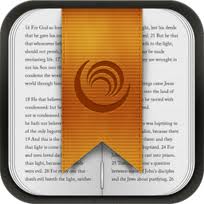 BibleGateway.com is the world's most popular online bible resource. The BibleGateway app is an excellent Bible study resource for everyone, no matter where you are on your spiritual journey. Bible Gateway makes almost 200 versions and translations of the Bible easy to search, read, and study. Its huge library of devotions, reference works, and Bible study tools will help you deepen your connection to Scripture, whether you're completely new to the Bible, a pastor preparing a sermon, or anywhere in between. An award-winning mobile Bible app rounds out the Bible Gateway experience, making it easy to bring God's Word with you, wherever life takes you.
Best Bible Study Apps #4 – The Beginner's Bible by Zondervan
The children in your life can study the bible on their tablet and have fun for hours doing it. This version of the study bible is specifically designed to engage children.
The Beginner's Bible app is based on the bestselling Bible storybook, which has sold more than 6 million copies worldwide. This app includes enhanced audio with narration, music and sound effects that help bring the 94 Bible stories to life. Your children will really enjoy learning these bible stories on the tablet or iPhone.
Best Bible Study Apps #5 -NIV Quest Bible Study App
The NIV Quest Bible Study app has over 20,000 study notes, full color maps, photos, and much more. It takes the bible app experience to a whole new level. If you're an NIV reader, you owe it to yourself to check out this NIV bible app.