The 4th of July is almost here and we're really looking forward to the festivities it brings.
From parades to fireworks and homemade ice cream. It's all wonderful, isn't it?
However, a couple of years ago I got to thinking.
Am I really teaching my boys the REAL meaning of July 4th? Do they really understand what this holiday is really about? Sure, the picnics and red, white, and blue popsicles are great, but what do they really know about our country and the Founding Fathers?
I began to implement and plan our July 4th family traditions in a different way. Sure, we could enjoy the goodies the day brings, but we were going to have a little history lesson in there as well.
What does it look like? First, we have a festive breakfast. I make red, white, and blue pancakes (I use blue and red food coloring for the pancakes that aren't white). Then, we read a few books that make the holiday truly come alive for the boys. We also enjoy reading to them from The American Patriot's Bible.
After reading, we'll discuss the meaning of these books and do a few coloring pages (it's very easy to find July 4th coloring pages and printables by doing a quick web search). Then, I open it up to let my kids answer a few of these questions. I'm surprised each year by their interesting answers! Some questions include:
Who of our founding fathers/mothers would you most like to meet? Why?
What does Freedom mean to you?
Of all the freedom's that you have been given, which one are you most thankful for the most?
What 4th of July tradition do you enjoy the most?
When my boys were around the age of 3-4, I taught them the Pledge of Allegiance. We recite it together on the 4th of July. Leading up to the 4th, take time to help your little ones memorize it. (By the way, did you know that the pledge has had several changes? I didn't either before we did some digging!).
We make sure to be at the family get-togethers and then watch fireworks together as a family.
This year, we're going to add something new to our history lesson for the 4th: the boys are going to learn the words to "The Star Spangled Banner".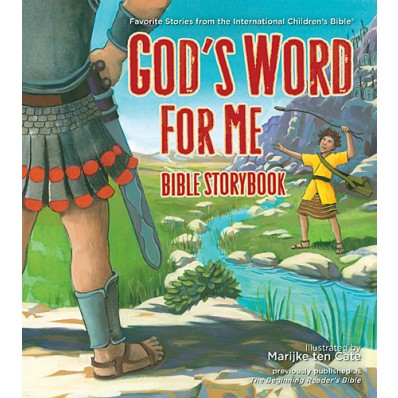 I just purchased God's Word for Me Bible Storybook. We have other storybooks but are really excited to dig into this one. We're beginning this one the week of July 4th and will continue it into our homeschool year which begins in July. This book is unique in that the Bible stories are told with real Bible text from the International Children's Bible® It also includes twenty-six Bible stories from the Old and New Testaments, each of which is accompanied by a prayer, a verse to memorize, and a spiritually enriching activity to help kids grow in their faith.
Celebrating July 4th doesn't have to be all or nothing when it comes to history and fun. We've found when we merge the two, the best family traditions come about as a result!
Check Out the Video for The American Patriot's Bible:
* * *
Your Turn
How do you make history an important part of this holiday? Leave a comment. We'd love to hear about some of your favorite July 4th family traditions!